News and Rumours: January 2002
Send all credible news to ajbat1@gmail.com
(For news from previous months, click on the "News archives" link on the left)
January 25, 2002
More Birds of Prey News
Source: Cinescape
Cinescape recently interviewed Jordan Levine and he gave some brief details about the Birds of Prey TV show. Here are some highlights
On the possibility of other DC heroes on the TV screen: "I think so. Take BIRDS OF PREY, for example. We're starting to go into casting right now and are [eyeing a] fall premiere. And there are some other properties that we're playing around with, too."
On the adaptation process of Birds of Prey from comic to screen: "I think it's important that it's accessible, I mean, I love comic books. I'm a comic book junkie, but that's a niche form of storytelling. I think that for broadcast television you have to balance the ability to not alienate that audience, but also make it accessible and bring in a new audience. I think that SMALLVILLE is successful in that largely."
-The last bit is probably in reference to the changes done to the Huntress and Black Canary characters. -AJ
The full article can be found on Cinescape's site by going Here
Catwoman movie has a new producer
Source: Comics2Film
Ed McDonnell has been named producer of this film. He was previously the president of Di Novi Pictures where he produced Original Sin and A Walk To Remember.
January 18, 2002
More Birds of Prey show details
Source: Kryptonsite via SHATM
Kryptonsite, a website devoted to the show Smallville, has some additional details on the proposed Birds of Prey TV series. Here are some additional highlights
-The Huntress' character is named Helena Kyle
-There will be tension between Huntress and Oracle
-Oracle and Huntress meet Black Canary in the pilot episode.
-In a flashback scene, Huntress faces off against the Joker "with a black-clad figure in silhouette". -The Joker is responsible for a tragedy against both Barbara and Huntress
-Huntress' psychiatrist is Harleen Quinzel
More Details can be found Here.
...All I can say is BOP can be a good show, but I don't like the idea of the characters being mucked around with. The show could have worked with the current characters and to tell you the truth a margarita drinking Huntress makes me laugh.
A.J
Batman: Year One Rumours
Source: Batman on Film
Bill Ramey is reporting that an inside source told him that Frank Miller is actively working on the movie. Another source told him that if Aronofsky and Miller can get the script approved before summer, then Year One will be Aronofsky's project will begin in summer 2003 and be released in 2004.
JLA DVD Cover
Source: Comics Continuum
The Continuum has revealed the box art for the Justice League DVD. It is shown below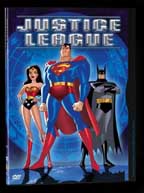 ....And Finally
For this years Academy Awards, Alex Ross did the promotional Poster. For anyone who hasn't seen it. Here it is.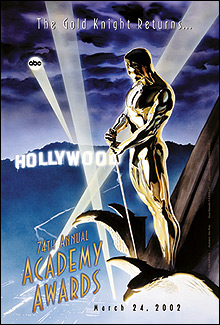 Notice the Batman references? Ross told Newsarama that the idea to make the poster based on Batman was the Academy's idea and not his. For full details follow this Link
January 13, 2002
Christian Bale Batman?
That is a rumour on Latin AOL. It also says that Tim Burton is directing the movie but this isn't true. A while back, Bale did say he would like to work with Darren Aronofsky. The link to this story can be found Here Look for the story title "Batman returns with a new face" Also because the page has been translated, expect some broken English
Batman and Robin's appearance on Static Shock news
Source: Comics Continuum
The Comics Continuum has some more information on the Static Shock episode which will feature Batman, Robin and Joker. The episode will air Saturday January 26 at 8:30 am EST. Here are some details
The episode is written by Len Uhley, one of the show's staff writers, and was directed by David Chylstek.
"It was fun for all of us, helping to shape the episode," said Static Shock story editor Chris Simmons. "It was a kick to have our hero team up with such a big iconic character, not just in comic books and animation but in all of Americana, as well. It's an episode that will stand out in the minds of the fans, no doubt."
In the episode, Batman and Robin track the Joker to Dakota, where he is putting together a new gang. Joker's Dakota gang includes such Bang Babies as Shiv, Kangorr, Hotstreak and Talon, and there's a major action sequence pitting them against Batman and Robin.
The episode is No. 24 in the production order of the show, so it was not originally intended as the season opener. Reprising their voice roles are Phil LaMarr as Static, Jason Marsden as Richie Foley, Kevin Conroy as Batman and Mark Hamill as Joker. Eli Marienthal provides the voice for a different-sounding Robin.
More details on the episode, including snapshots, can be found Here
Gotham Girls Comic details
Also from the Comics Continuum are details of the Gotham Girls mini series
Catwoman will be spotlighted in the first issue of the upcoming Gotham Girls mini-series from DC Comics. The series, written by Paul Storrie with art by Jennifer Graves, will spotlight one character in each of the five issues. Following Catwoman, #2 focuses on Poison Ivy, #3 on Harley Quinn, #4 on Renee Montoya and #5 on Batgirl. Storrie described the series as a "fast-paced caper / chase with all the lead characters scrambling to get their hands on a very special item." DC has yet to announce a launch date for Gotham Girls.
Dark Knight Strikes Again # 2 cover and 10 Cent Adventure on DC Website
Source: DC Comics (via Newsarama)
For anyone who arrived too late at their store and missed this story, DC has posted the entire issue on their website. It can be found by going Here Also the cover for Dark Knight Strikes Again # 2 can be found Here
January 10, 2002
A new look for a new year
During the Christmas break I decided to completely redesign the website and made some changes here and there. First off, special reviews and reviews have been combined and I have removed the Comic info section since I couldn't remember to update it every time. However I plan on adding a Comic timeline section which will include all significant events and stories in Batman's Post-Crisis comic timeline. So look around and let me know what you think and if you see any dead links send them to me.
A.J. January 2002
January 4, 2002
Batman DVD News
Source: Toonzone
Here is some more news from Toonzone regarding the Batman DVD's and their features
Batman & Mr. Freeze: Subzero explodes into animated action when the villainous Mr. Freeze kidnaps Batgirl. Now, racing the clock, Batman and Robin face off against Mr. Freeze in the iciest showdown of the century.

The DVD comes with the film as well as the "Hunt for Mr. Freeze" game, an original music montage, a featurette on how to draw Batman, an introduction by producer Bruce Timm and a trailer.

The Batman/Superman Movie begins when the Joker elicits the help of Lex Luthor in a new fiendish scheme. Only the combined superpowers of Batman and Superman can save Metropolis. Will the Man of Steel and the Caped Crusader be able to foil the plot of this diabolical duo? Not if the superheroes' alter egos clash as they vie for the attention of the self-reliant Lois. The "movie" is comprised of three episodes of Superman: The Animated Series.

The disc will contain similar features to "Subzero" including The Joker's Challenge game, introduction by Bruce Timm, original music montage and how to draw Batman featurette.
Batman: The Animated Series - The Legend Begins goes back to the beginning of the franchise with five episodes of the original television series which premiered in 1992. Many fans of the show will be relieved to hear that the episodes are being released on disc in order as opposed to a "best-of" format which is a common practice at Warner Brothers.

The same features and a couple of extra ones appear on this disc including how to draw Batman, Life on the Edge Game, animation tests, and introduction by Bruce Timm, and trailers.
Batman Beyond: Return of the Joker - The Original Cut features the return of the Joker! When the Joker shows up in Terry McGinnis's time, he brings along a deadly secret with him...and secret to Bruce Wayne's past.

Aside from a new intro by Bruce Timm, the extras will be exactly the same as the previous edition of this movie, although the trailers might be different.
There were no details on the Justice League disc. Toonzone also has the cover arts for Sub-Zero and Worlds Finest which are the same ones from the VHS versions. Also it appears that Warners has no intentions of ditching the much hated snapper cases.
Cover art can be found Here.
New DVD Petition
Looks like Batman and Superman fans just won't leave WB alone. Another petition has been started to bring Batman Beyond and the Superman animated series to DVD. To sign this petition click Here.
Batman Comic News
Source: ComicsContinuum
DC has announced that The Dark Knight Strikes again # 2 will be released on January 30. A week later then normally planned. Second Diamond Distributors has announced that The Batman 10 Cent Adventure was the top-ordered comic book for January for the Direct Market,