Send all credible news to ajbat1@gmail.com
(For news from previous months, click on the "News archives" link on the left)
---
29-Nov-2004
Batman Begins Video Game screen shots
source: IESB
Head down to IESB to a look some pictures from the Batman Begins Video Game.
---
Scott Beatty Interview
source: Batman on Film
Bill has interviewed Writer Scott Beatty who is also involved with Batman Begins as well as doing the comic adaptation for the film. Beatty talks about his career and his series of books based on Batman and DC characters. The Interview can be found Here
---
Various Batman Begins Newsbytes

Here are some links to various interviews of David Goyer and Christian Bale. On Superhero Hype, Goyer talks about Blade Trinity but does drop some Batman tidbits such as
His and Nolan's film as opposed to Aronofsky and Miller's:

We wanted to make sure that there were some parameters within which we could tell the story we wanted to tell, so we just asked them what are their dos and don'ts. We knew that they weren't going to let us make an R-rated film. While I was intrigued by what [Darren] Aronofsky and [Frank] Miller were trying to do, I knew that the studio would never let them do it, so to that extent, I think it was kind of folly to pursue that. They're not going to let a character that big become an R-rated film.
Where Batman Begins stands in regards to the other two films:

Yeah, it's a reboot. We can do a new Joker or a new Two-Face story. As far as our movie is concerned, [the first four movies] never happened.
The Full Interviews can be found Here and Here
Pulse also has interviewed Goyer. Again its mostly Blade Trinity but Goyer does give some details about his and Nolan's meeting with Paul Levitz
And Finally here is a brief Interview with Christian Bale courtesy of Visimag
---
25-Nov-2004
The following is a press release from Corgi regarding their Batmobile line
Press Release

This Holiday Corgi Classics Celebrates Six Decades of the Amazing Batmobile

Over the past six decades, some of the greatest artists in comics history have offered their unique take on one the world's most iconic super hero vehicle: The Batmobile.

Now, these remarkable designs are presented in a line of high quality, realistic models that are certain to thrill collectors and Batman enthusiasts alike.

Corgi Classics, the worldwide pioneer of die-cast scale replicas presents the all-new DC Comics Batman collection.

Here are some highlights from the lineup of Batmobile replicas (and the special surprises each one offers):

The 1940's Batmobile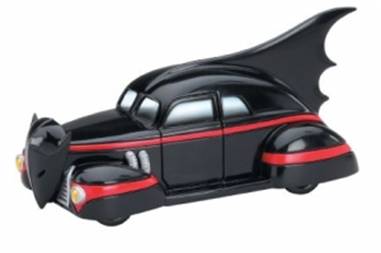 One of the most unique Batmobile designs, the 1940 version features a spring-activated battering ram that protects Batman and Robin from whatever evil might lie ahead. In 1/43 scale. Suggested retail price, $10.

The 1960's Batmobile & Batcommunicator™





(Note: the Batman figure is only available in the 1/43 scale version)

One of the most famous Batmobiles, Corgi's 1960's version comes in two sizes, cool and compact 1/43 scale and big and bold 1/24 scale. The 1/43 version features a spring released saw blade, just like the legendary Corgi original. The 1/24 version comes with a Batcommunicator accessory – with a push of a button, you can watch and hear Batman speak four unique phrases from the era. Suggested retail prices: 1/43 scale, $10. 1/24 scale, $27.

2000 Batmobile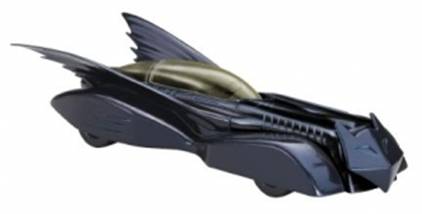 Batman's ready to charge into the future with this sleek new design from the DC Comics team. This is the first time this version of the Batmobile has ever been offered as a die-cast replica! The high-tech translucent hood is hinged to expose a highly detailed rotating turbine engine. This vehicle also has a removable cockpit shell to reveal its custom interior. It includes its very own Batcommunicator accessory, featuring four unique Batman phrases. In big 1/18 scale (this also comes in 1/43 scale, but without the Batcommunicator. Suggested retail price, $40.


Also new for Holiday 2004:

1:43 scale


BMBV1 1980's Batmobile

1:43 scale

1990's Batmobile BMBV1

1:43 scale

2000 #2 Batmobile BMBV2

1:16 scale

Batcycle with Figure

1:43 scale

Batmarine with Bat Stand BMV

1:43 scale

1950's Jokermobile JMBV1
Batman die-cast collectibles are available at retailers nationwide.

For the media only: For more info including downloadable artwork and local store availability, please go to http://www.Corgi-USA.com/Media


# # #


Since 1956, Corgi has been the worldwide pioneer of collectible die-cast models and replicas. Legendary for its devotion to quality, authenticity and value, Corgi creates products to delight the entire family. Consumers can receive more information about the company and its line of products by calling 1-800-800-CORGI, or visiting us at: http://www.corgi-usa.com


Corgi-USA is owned by Corgi Classics Limited, a wholly owned subsidiary of Zindart Limited (NASDAQ: ZNDT)

DC Comics, a Warner Bros. Entertainment Inc., is the largest English-language publisher of comics in the world and home to such iconic characters as Superman, Batman, Wonder Woman and the Sandman. These DC Super Heroes and others have starred in comic books, movies, television series (both animated and live-action) and cyberspace, thrilling audiences of all ages for generations. DC Comics' web site is located at www.dccomics.com.

BATMAN and all related characters and elements are trademarks of © DC Comics.
22-Nov-2004
Christian Bale on Batman
source: Chicago Sun Times
Christian Bale has given some thoughts to the Chicago Sun Times in regards to his role as Batman
On Batman"I had appreciated the Batman movies, but I wasn't really a fan and I didn't know the TV series. But I read some of the graphic novels and they were very dark and very interesting." Bale was almost disappointed to find out this Batman film wasn't some low-budget number. "I said, 'It's big-budget, OK, then it won't happen the way I want it to happen. Forget it.' " He changed his mind when he found out that Christopher Nolan ("Memento," "Insomnia") was directing. "We clicked and hopefully we've made something very different."
On Batman Begins "Our Batman is centered on the early days. It's an explanation. It's certainly not Batman No. 5," he promises. "It's a reinvention. We want you to forget there has ever been a Batman before this one."
Hit the link above to read more about what Bale had to say.
---
Batman Begins game featured in Game Informer Magazine
source: Game Informer
Keep an eye out for the December issue of Game Informer. The Batman Begins video game has made the cover and the magazine has a first look at the game.
---
18-Nov-2004
Batman Begins trailer news
source: Superhero Hype
When can we expect to see the trailer for the film? The latest is that it will be attached to Ocean's 12 starring former Batman George Clooney.
---
David Goyer news
source: Comic Book Resources
David Goyer has been interviewed by Comic Book Resources. He talks about Blade Trinity and Batman Begins. In regards to Begins, here are some snippits.
The Artistic direction of the film:

"This interpretation I think is by far the one that's closest to the comic books or to the comic books that today's audience knows. They're very different from all of the films. A lot of those films, even the Burton movies, the points of reference were a lot of expressionistic silent films like 'Metropolis' or 'Cabinet of Dr. Caligari,' things like that. But the points of reference weren't anything that was real. Where as the points of reference for Gotham City are all real cities. That's why we shot a lot of stuff in Chicago. We also wanted to liberate ourselves from the feeling of being on a set and a back lot. We had a lot more exteriors. We shot scenes in Iceland, things like that. Also, our film doesn't all take place in Gotham."
On dealing with WB

" I think Alan Horn and Jeff Robinov who are at WB now, they get it," Goyer said. "They understand that if these films are going to find traction with a wider audience, they need to have credibility with the fans first and foremost. So they were really great to work with. It was really a model of how these kinds of movies should be made."
Go Here for the full interview. David Goyer will also be doing a story arc in Superman/Batman in the near future.
---
16-Nov-2004
Batman Begins Cameos
source: Batman on Film
Some news on rumoured cameos in Batman Begins. Bill of Batman on Film is reporting that Batman villain Mr. Zsasz will have a cameo (and nothing more) in the Batman film. Also while there is a possibility that Harvey Dent might appear, he won't be played by Guy Pearce as he stated that he wasn't involved with the film.
---
Gail Simone talks Birds
source: Newsarama
What are the post War Games Birds of Prey up to? Gail Simone has given some hints and thoughts on what to expect from the team as they head in their new direction. Head down to Newsarama for full details
---
Update on Julie Newmar/Jim Belushi feud.
source: Elites TV
A follow up to the Julie Newmar/Belushi story. Newmar told Entertainment tonight that she's sorry about her problems with Jim Belushi and is willing to make things up. No word on whether Belushi has accepted her apology
---
9-Nov-2004
Batalumni news: Former Bat villains make top 30 list
source: MSN
The U.K's Empire magazine released a list of top 30 actors and actresses over 50. Among those on the list are former Bat villains Jack Nicholson (BATMAN) at # 3 behind Robert De Niro and Al Pacino and Christopher Walken (BATMAN RETURNS) at # 27. Morgan Freeman (BATMAN BEGINS) also made the list at # 7
---
Rino Romano on Batman
source: Toronto Sun
The Sunday Sun newspaper's TV Guide had a cover featuring Batman and an article on Rino Romano. The article talks about Romano, his previous work, his thoughts on Batman and meeting Adam West.
---
Batman Begins news roundup
source: Batman on Film
Batman on Film is reporting that the companies Cinesite and XYZ RGB will be doing visual effects work on Batman Begins
Comics Continuum is reporting that at Wizard World Texas, David Goyer announced that the first rough cut of Batman Begins will be completed in three weeks. Goyer also revealed that while he and Nolan may not return for a second film, the door is open for them.
---
Batalumni news: Julie Newmar sued
source: New York Post
Julie Newmar used to find herself in trouble with the law as Catwoman on the Batman series. Now she finds her self in trouble in real life. Actor James Belushi is suing Newmar for 1 million dollars accusing her of trying to drive him from his home by harassing him.
---